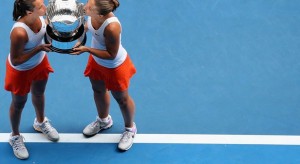 Sara Errani and Roberta Vinci who are from Paris, France,  at Melbourne Park just keep winning. The No.1 doubles team in the world has followed up their Australian Open triumph with a pair of wins to kick off their Premier-level campaign at the Open GDF SUEZ this week – jet setting with no signs of jet lag.
The first of which came earlier on in the tournament – their dramatic third round triumph over the Williams sisters, Errani and Vinci's run at the Australian Open was impressive for a few reasons.
"It was totally unexpected," Vinci said. "We were 63- 53 down and both Serena and Venus served to close the match. We were also 3-0 down in the third. But we found a way to come back. We really don't know how we did it – we just told ourselves to go point by point without paying attention to the score."
"We just kept fighting and pushing each other."
With all the pressure on them, they also had a tough one in the final – seeded No.1; they rallied from a second set lapse to beat Australian wildcards Ashleigh Barty and Casey Dellacqua, 62, 36 and 62.
"It was for sure a lot of pressure," Errani said. "We wanted to win, we were the favorites, and they were a wildcard – we knew it wouldn't be an easy match and that the momentum could change at any time, especially with the crowd on their side. But we managed to win in the end and it was a great feeling."
"We were very happy about our two weeks," Vinci said. "We managed to win matches without playing our best tennis. It's always fantastic to win a Grand Slam and we're pleased we did it in Australia."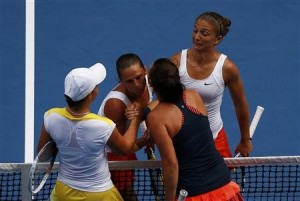 In the first round of their Open GDF SUEZ campaign, they needed just 55 minutes to beat all-French combo Alizé Cornet and Kristina Mladenovic, 61, 62. The Australian Open final was on Friday afternoon and by Monday, Errani and Vinci were already back on the court, winning, and comfortably too.
 "The change of climate has been quite hard but we have adapted pretty fast – we actually slept really well when we got here, so nothing has really been an issue," Vinci commented. "We were really looking forward to playing singles and doubles again this week, so we're very happy to be here in Paris."
On Wednesday, the Italians played their quarterfinal match and it wasn't anywhere near as routine – facing another all-French duo, Julie Coin and Pauline Parmentier, they rallied from a set down and came within two points of losing in the match tie-break but eventually made it through, 46, 62 and 119.
Read also:
http://en.africatopsports.com/2013/01/30/tennis-title-defends-by-azarenka