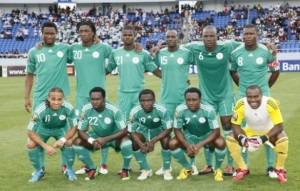 Each member of the Super Eagles has been promised $10,000 for victory over the Chipolopolo of Zambia in today's crucial group C match at the ongoing 2013 Orange Africa Cup of Nations.
This is part of incentives put in place by the Nigeria Football Federation (NFF) to ensure that the Eagles win their two remaining group C matches against Zambia and Ethiopia
Chairman, House Committee on sports Godfrey Gaiya said here yesterday that the players were paid $5,000 each even when they drew 1-1 against Burkina Faso and that if they beat the defending champion today NFF would pay them $10,000 each.
Gaiya, who blamed the 1-1 draw against Burkina Faso last Monday on complacency, lack of concentration and focus, said he expected the players as professionals to know how to deal with the situation at that time.
"This is not the first time the Super Eagles would lose concentration at the dying minutes. They did same in our AFCON 2012 qualifier against Guinea in Abuja and against Malawi. It has become a reoccurring event that at the dying minute of any match Nigerians will be having their heart in their mouth.
"With the draw, I think, nothing has gone bad. The group is still very open with one point each. We had a meeting with players and the coach to change their approach against Zambians who are physical and skilful.
"We want to see a better game that will see us beat Zambia and Ethiopian and go ahead to top or at best come second in the group", he said.
According to Gaiya the bonus paid to the Eagles is the highest in the tournament and that was after a careful investigation, noting that the Bafana Bafana were not paid any bonuses when they drew their first match but were told to win their second match before any payment could be made.