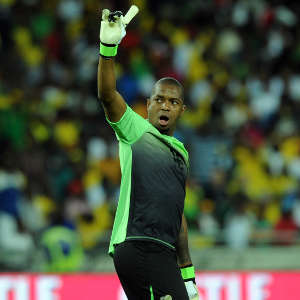 Bafana Bafana goalkeeper Itumeleng Khune believes the team's Afcon success to date is thanks to the support and belief of South Africans.
Khune said he was convinced Bafana were on the right track to emulate the Class of 1996 by winning the Afcon title on home soil.
"We are highly motivated by our sold-out matches in this tournament," said Khune after a five-star performance against Morocco in Durban on Sunday.
Khune was the hero of the night after making a couple of dramatic saves to help Bafana Bafana get a 2-2 draw to qualify for the quarterfinals. This resulted in some supporters suggesting that the hard-working Khune should be given the captain's armband.
"It's not about Khune, for me it's all about teamwork and contributing to the success of Bafana Bafana like all the other players," said the modest keeper.
"The real work starts after qualifying for the quarterfinals. We have raised the hopes of many South Africans by finishing top of Group A."
He said the support, especially against Morocco, had been "inspirational" for the team.
"We won't let them down. We don't want to go down in the history of South African soccer as the only Bafana Bafana team that failed to win the Afcon title on home soil."
He said the tournament was proving to be tough, with some giants of African soccer like Algeria and Morocco going home in the first round. Khune, who is also the captain of Kaizer Chiefs, said they were happy that the goal drought was finally over.
"That was a cause for concern for all of us, but we are finally getting it right. We have been working hard at training, perfecting our finishing. It is good to see even defenders like Siyabonga Sangweni scoring incredible goals like the one against Morocco."