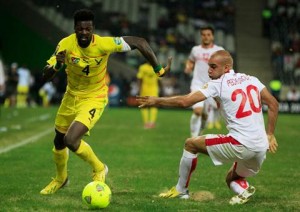 Togo striker Emmanuel Adebayor has fiercely criticised the sandy field that will host a semi-final at the African Cup of Nations, calling it 'a disgrace' and embarrassing for the continent.
The Tottenham forward said the sandy and bumpy pitch at Mbombela Stadium in Nelspruit badly undermined African football and will lead people in Europe to think the teams are playing 'in the bush.
Togo held Tunisia to 1-1 at Mbombela on Wednesday to reach the quarter-finals for the first time, after which Adebayor said 'it's a disgrace for our continent to be playing on this pitch when it's on the TV around the world.
"Once again we are in Africa, the African Cup of Nations is a big tournament for Africa the whole world is watching this," he said.
"You can't play on a pitch like this. Those people that watch the game in Europe, they will be sending SMS to me … asking me, Are you playing in the bush or what?' It's a disgrace to our continent, we can do better."
Adebayor's criticism came as tournament organiser the Confederation of African Football was to hold its mid-tournament review on Friday.
While South Africa was expected to be praised for better attendances at this cup, the poor Mbombela field has undoubtedly been an eyesore and had already been criticised by the Zambia and Nigeria teams.
Television audiences will have seen sand constantly kicked up by players and the ball often bouncing unevenly at Mbombela for the group games there.
The field will also host Togo's quarter-final against Burkina Faso on Sunday and one of the semi-finals.
"CAF have to sort things out to solve the problem," Adebayor said.
"At the end of the day we are all African and we have to be honest with ourselves. It's a beautiful stadium but the pitch is not happening."
The problems with the Mbombela field reportedly arose after days of heavy rain in the northern city of Nelspruit just before the tournament, leading officials to lay sand on the surface to prevent it becoming waterlogged.
Zambia coach Herve Renard said the poor surface was a major reason why his defending champion side was eliminated in the group stage, having struggled to play on it.
The cup has generally been well organised, with only the Mbombela field, a few instances of poor refereeing and the misbehaviour of Ethiopian fans in their team's opening game against Zambia the standout problems.
CAF was expected to provide an update of ticket sales on Friday, with the tournament already expected to be a vast improvement on the last one in 2012.