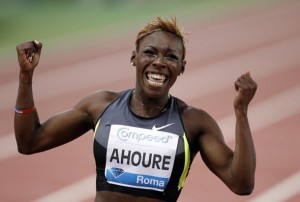 The 29th African Cup of Nations taking place in South Africa is overshadowing other sporting events.
January 26, when all eyes were on the final matches in Group D, the Ivorian sprinter Murielle Ahouré realized a good performance in Houston (USA).
The silver medalist of 60 m at the world championships in 2012 broke his own record (7" 00).
She establishes a new record in Africa and holds the 7th best performance of all time over this distance.
The record was held by the Nigerian Christy Opara-Thompson (12 February 1997) and Chioma Ajunwa (22 February 1998). 13 years later, Ahouré rewrote the history of African sprint at Houston.