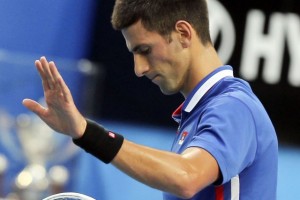 Australian Open champion Novak Djokovic says he would be risking injury by playing on the clay court set up for Serbia's Davis Cup tie with Belgium this weekend.
The surface in Charleroi is laid over an indoor parquet floor and the world No. 1 labelled it "definitely the worst court that we ever played (on)".
Djokovic is still recovering from his four-set win over Andy Murray in the Australian Open final last Sunday but with compatriot, and world No. 9, Janko Tipsarevic out injured, his presence could be crucial for his country.
The six-time grand slam winner was wary that his complaints might be taken in the wrong way and chose to stress that he was speaking out on behalf of his competitors as well.
"I don't want to sound as a player who is complaining or finding an excuse before I start playing matches but I had only one practice and this is definitely the worst court that we ever played in our lives on," Djokovic said.
"With all the respect to the hosts two people are working on the court every day. Two people. I came here from Australia yesterday. I am supposed to play my match tomorrow under totally different conditions and I am putting my own health and we are all putting our own health at stake here for the rest of the season."