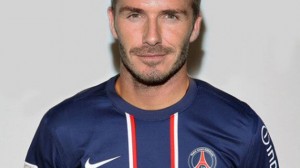 I am often in secret transfers. But I think this one will go down as one of the finest strokes in recent years. No one , but really not many people had suspected. Even the British press that the most formidable tabloids did not see it coming.
Beckham was announced everywhere in Australia, Italy, Qatar, and China and even in South Africa! And of course, we thought he would mostly end his career in the sun in Monaco. Well we imagined Vic, new rock princess making competition for Caroline girls!
David surprised everyone, and PSG with this. Well done!
At 37, he is a player close to retirement, everyone knows, him first. "I come to save  PSG," he said a little presumptuous. PSG will probably not be stronger on the ground with him. However, the club is a great marketing ploy. While everyone was saying that the French championship was devalued – the biggest stars left the country for England and escape the taxman, the playboy land coming! He  will challenge Zlatan! I guess the people press. Who is the most beautiful … Who has the most beautiful tattoo, who slams the more…?
David has nothing to prove! He is there to make people talk of him, to do the show, and business. It is also because he is super strong. He comes for some unpaid five months! His salary will be donated to an association which supports disadvantaged children. Good behaviour. But as in music, a star now has two sources of income: his club salary and the business – Marketing, pubs and co-David is still earning a lot of money in France as well as his club.
David is super bankable! PSG scored a very nice shot! Qatar too! The Ambitions are clear: the championship, Coupe de France – It falls ill for Marseille! – And the Champions League.
Because David Beckham is a pawn of the deployed strategy. Heis the best ambassador of a club that has a great desire to become the new king of Europe at a time when the Spanish and English clubs are going through complicated financial periods.
The wheel turns. Not for David again!
Basile Boli.31/1.2013