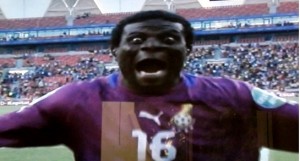 We know that Fatawu Dauda is a great goalkeeper, but it is not all
The goalkeeper of the Black Stars of Ghana has a particular way of expressing his joy.
After the second Ghanaian goal against Cape Verde (mean qualification to the semi-finals) Dauda runs before the camera, spreads his arms, opens widely his mouth eyes.
The picture is terrible, but what do you want, we are enjoying ourselves!
[youtube]http://www.youtube.com/watch?feature=player_embedded&v=rvXdiAuqY0Y[/youtube]