Farai Mupasiri striker of Dynamos says he is ready to fill the void that has been created by the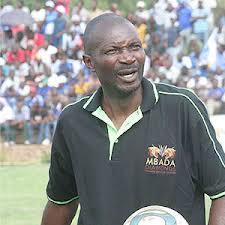 departure of the team's main strikers Simba Sithole and Rodreck Mutuma.
The only recognisable striker at the club who is leaving is Mupasiri and Bloemfontein Celtic respectively, Sithole and Mutuma have left for South African Absa Premiership
The former rugby player who is multi-talented will be leaving for Turkey for trials in two weeks' time, said he was ready for the challenge.
 "It's a big task to fill in those gaps. I was still learning from those guys and now I'm left alone. It's unnecessary to feel sorry for me though because I knew it was going to happen. I did my best last season and I think I'm ready to carry the hopes of the team. I can't wait for the new season," Mupasiri said yesterday.
The striker, who netted six goals for Dynamos last year in a season in which he was used sparingly, has not escaped the attention of European scouts.
He has been invited for trials in Europe in two weeks' time, plunging Dynamos into a fresh striker crisis.
Forward was voted the club Rookie of the Year, is set to leave the country after Dynamos' CAF Champions League preliminary match against Lesotho Correctional Service.
 "He is part of an all-star team which is made up of professional players from all over the world that will be travelling to Turkey to participate in the European showcase which will have in attendance scouts from many of the top clubs in the world," Mupasiri's manager Munya Maraire said during a Press conference yesterday.
The tournament will run from February 18 to March 1.
Mupasiri, who has been down in recent days due to a back injury, said he was looking forward to the trials.
"It's every African player's dream to play in Europe. I'm excited, it's a good feeling and I'm looking forward to it. My back injury is healing and I am getting better every day. I think I will be fine in time for the trials."
"What I can assure the Dynamos family is that I will be around this season. I will only leave after the first leg (Champions League) and I will be back in time for the return leg. I want to go to Europe to get more experience and I will obviously come back a better player," Mupasiri said.
Read also:
http://en.africatopsports.com/2013/01/16/rugbykenya-we-can-become-a-giant-muthee