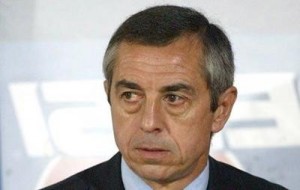 Alain Giresse is the new coach of Senegal and he began with a draw last night against Guinea (1-1) in Paris.
He just made his first record, "This is the beginning of a new adventure, a new team and a new challenge. The important is beyond the result and in difficult conditions – it snowed! – It Was to see the world and take a certain amount of information in relation to the team. The goal, of course, is to ensure that Senegal participates and is always present during the final phases of Afcon. "
SENEGAL – GUINEA 1-1 (1-1). Referee: Freddy Fautrel (FRA). Goals Moussa Sow (8th) for Senegal and Razzagui Camara (23rd) for Guinea.
SENEGAL: Coundoul (Ch. Ndiaye, 46th) – Z. Touré, L. Sane (Ch. Kouyaté, 62) Bayal Sall (Abd. Ba, 46), Arm. Traoré (Mbengue 46) – Id Gana Gueye (Re Gomis, 46) Diamé (cap) (Deme Ndiaye, 46), Dia (Sa Mane, 67) – Moussa Sow (MB Diouf, 46), P. Cisse, Dame Ndoye (Abd. Sane, 82). Coach: A. Giresse.
GUINEA: Aziz Keita (Aboub. Camara, 46) – T. Bah (Kalabane, 46) Zayatte (cap), Flo. Pogba (Ma Mara, 82), Iss. Sylla (Ib Bangoura, 76) – Moh. Diarra (Math. Pogba, 61) Sad. Diallo (Seyd. Soumah, 46), Lan. Camara (Lass. Touré, 46), Razz. Camara (Ib Conte, 46) – Lass. Bangoura (Ib Traoré, 46), Sal. Cissé. Coach :  Mr. Dussuyer.