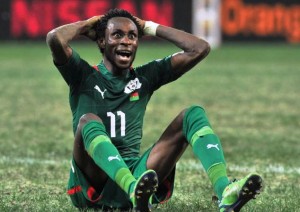 A complain has been lodged by Burkina Faso on behalf of Jonathan Pitroipa's red card during the semi-finals with Ghana, the team manager told AFP on Thursday.
Pitroipa would have to miss Sunday's Africa Cup of Nations final against Nigeria in Soweto after he picked up two yellow cards in a penalty that was supposed to be his.
Pitroipa, who has scored twice in the tournament, was sent off three minutes from the end of extra time on Wednesday for diving when, in fact, he had clearly been knocked to the ground after tangling with an opponent.
Team manager Gualbert Kabore, speaking at the team hotel, disclosed: "The Burkina faso Football Federation wrote an official letter of appeal to CAF (competition organisers).
"We lodged it in the two hours after the match as stipulated by the regulations.
"We think we have a good chance of winning the appeal."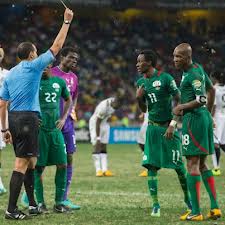 Kabore, a distant relation to another key Burkinabe player, midfielder and vice-captain Charles Kabore, echoed coach Paul Put's dim view of referee Slim Jdidi's decision-making during the match.
Chief among the Tunisian's perceived errors in the Burkina Faso camp were the rejection of a legitimate penalty claim, a disallowed goal that appeared to be valid, and Pitroipa's sending off.
"There were some scandalous decisions, we don't know why, we're asking lots of questions, there are lots of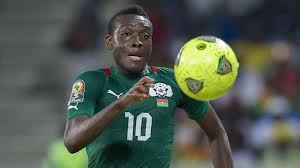 theories," said Kabore.
"Curiously, the players reacted better than us (the team management). They said if the referee is against us that must mean we are the stronger side."
Burkina Faso is hoping to hear later whether their appeal has been approved.
The Stallions already have to do without the services of top scorer Alain Traore.
Traore leads the scoring chart in the 2013 Africa Cup of Nations, with three goals only with him ending his part prematurely when a sustained an injury during play with Zambia.
Read also:
http://en.africatopsports.com/2013/02/07/afcon-2013-burkina-surprise-black-stars/