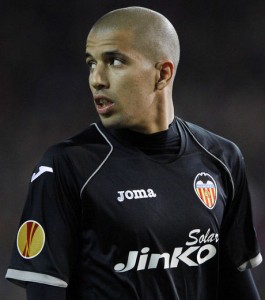 Feghouli wishes to face Granada before joining the Algerian national team in preparation for the upcoming African Cup of Nations and even called his coach, Vahid Halihodzic to request leave until after this weekend.
The club has also submitted a formal request to Algerian Football Federation president, Mohamed Raouraoua, as the team is short on midfielders and are in desperate need of Feghouli.
However, Raouraoua is reluctant to grant permission for Feghouli or Racing's Bouazza and Saint –Etienne's Ghoulam who have also submitted special requests to join the national team after this weekend's matches.
Valencia may have a loophole, as FIFA rules dictate the players must be 'liberated' by the clubs 14 days before the tournament begins.
The African Cup of Nations begins on 19 January, and since Valencia play on the 5th, they are hoping that they can convince Raouraoua, whose primary concern is that Feghouli will get injured, to let the midfielder play on Saturday and immediately join the team, which would be a day earlier than the other two who requested special permission.
Feghouli himself was desperate to tie up his renewal before the African Cup of Nations to not leave it hanging over his head, which may have affected his performance and also wished to have one final match to send Valencia off on a high note before he leaves for the next month.