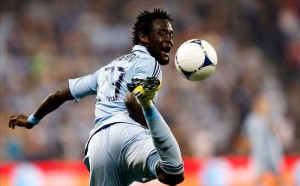 English Premier League side Norwich City confirmed they had signed Sporting Kansas City's Kei Kamara after the Sierra Leone striker was granted a visa.
The 28-year old's move from Major League Soccer (MLS) to Norwich until May 6 was announced last week, subject to his receiving immigration clearance, which Kamara has now been granted.
"City are pleased to confirm forward Kei Kamara has been granted a visa to come and play for Norwich City on loan from Sporting Kansas City until May 6," a club statement said.
"The 28-year-old Sierra Leone international will fly into the UK to join his new Canary teammates over the next 24 hours and will be available for selection for Saturday's Premier League clash against Fulham at Carrow Road."
Norwich agreed a deal to sign Kamara last week, with Luciano Becchio arriving from Leeds 24 hours later on the final day of January's transfer window.
City manager Chris Hughton, speaking after last week's 1-1 draw with Tottenham Hotspur, said of Kamara: "I think he'll give us another dimension in the forward area.
"He's a player that's done very, very well in the MLS over the last few seasons, scored a lot of goals, a lot of assists.
"From what I've seen of him, we're not just taking an average player from that division. We're taking a player from that division that has excelled in recent seasons.
"How quickly he can adapt, how much he can give us. We're quite looking forward to the prospect of seeing that."
Norwich are 14th in the table, seven points clear of the relegation zone, but have just two wins from their last 12 matches in all competitions.