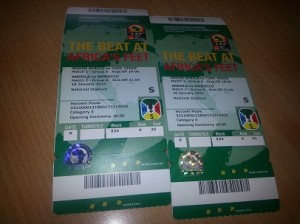 According to Confederation of African Football (CAF) general secretary Hicham El Amrani, there are still 10,000 unsold tickets for Sunday's AFCON final between Burkina Faso and Nigeria.
While it is expected that these tickets will be sold, it is unusual for the final of a major world tournament to have seats available to the gnerl pubic.
The quarter final exit of the hosts, South Africa, has not helped sales of match tickets for the later stages of the tournament with many games being played in front empy seats. Games featuring South Africa were the best attended but once the hosts were knocked out public interest has dropped.
Meanwhile, Stadium Management South Africa CEO Jacques Grobbelaar has assured fans that the Soccer City pitch will be up to standard despite the Red Hot Chilli Peppers having held a concert at the venue last Saturday, telling the Sowetan,
"We did a pitch review (on Tuesday) and opened the stadium to the members of the media. We are 100% comfortable the pitch conforms to FIFA regulations. I still believe it's one of the better pitches in the country at the moment."
Underdogs Burkina Faso have never reached an ACON final and may be without two star players, Alain Traore who is injured and Jonathan Pitroipa, whose sending off in the semi-final was one of a number of highly controversial decisions made by Tunisian referee Slim Jedidi.
According to CAF general secretary Hicham El Amrani, Pitroipa's chances of having his suspension lifted for the final depend on Jedidi admitting he made a mistake in awarding a second yellow card to Pitroipa in Wednesday night's semi-final against Ghana.
Jedidi's referring performance is perhaps one of the most controversial of all time in a tournament of this standard and sparked a barrage of social media comment, especilly on Twitter, from fans, observers and authorities within the game.