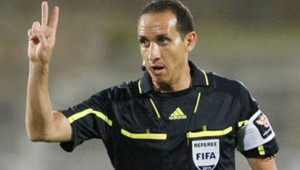 I had the opportunity to alert on this blog about the poor quality of refereeing in Afcon, especially in the early games.
Yesterday, we really reached the height of "laughable" or ridicule …
Slim Jdidi, the referee of the semifinal Ghana – Burkina Faso (1-1, 3 tab 2) remain in the annals of the worst man in black! And at this level of the competition, it is truly shocking.
He ruled in a totally unjustified Jonathan Pitroipa and forgot to whistle a penalty a few minutes later for the Rennes player! Put Paul is right when he says "they do not want a final Burkina Faso, Nigeria …. "
Fortunately, African football is far from perfect is to have the best possible response. The referee will now stay at home and Pitroipa's red card has been deleted! A first double!
European and world football will also be inspired by this great reaction. Afcon has a problem with lawns and arbitration. But organizers also have the sense of justice!
Pitroipa will play the final, and that's good news for the Afcon and football!