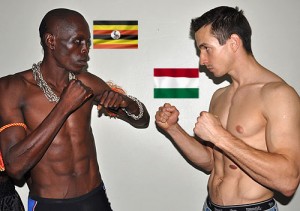 Ronald Mugula and Andre Nagy, if somebody wasn't contented with their fight should greatly wait for the Super Pro European title fight scheduled for 5th April when Ronald will be tussling it out with Valdet Gashi a man from Albania.
Ronald says that he didn't reach the peak of his fight with Nagy and he feels there are some people who still doubt in his kick boxing tactics, he assures the masses to be on standby and come witness this Super pro European title match as one match can't lure the support ,confidence and belief in him.
"I know people still doubt me, wait no more than 5-April-2013, I have to show case the real kick boxing for you guys" said Ronald Mugula.
He is actually conducting intensive training to keep him fit and ready to tussle it out with Valdet so as he can defend his European title and not lose at his back yard as he is still seeking confidence and belief of Ugandans.
Read also:
http://en.africatopsports.com/2013/02/03/boxing-sam-claims-victory-over-felix-at-the-ibf-world-middleweight-title