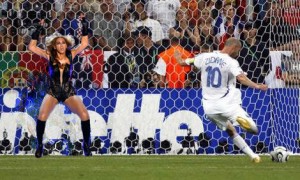 Will Beyonce get hold of the ball as she stands as a goalie whiles Zidane shoots in the 18 yard box?
She seems to be lost as the ball is in direct and possible direction of what we call a goal as she pays no attention to the ball but screaming.
From the way she stands, is she ever ready to get hold of the ball…? Probably this would be a joke just like in fairy tales as it is said and they lived happily ever after.
This is a Photoshop based edited picture that brings about humour, a picture that was taken from the recent Super Bowl where her (Beyonce) husband refused to perform with her on one stage in order to give her room to perform.
Beyonce has a Hulk Hugan style with hand up in the air whiles Zidane is up to business. This image is probably what would call for great attention and fame of the two well known celebrities of America and France.
As this picture stands out on the internet amongst various pictures of Beyonce on the internet many graphic artistes would want to try doing and creating humour but now the picture we see here is shared by millions on Social networking site like face book, twitter, …etc.
What do you also have to say about this? Have your say!
Read also:
http://en.africatopsports.com/2013/02/08/afcon-2013-nigerians-success-of-the-tournament