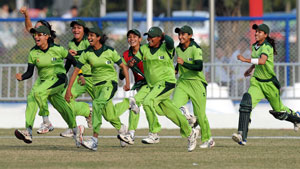 South Africa's Marizanne Kapp sent Pakistan crashing out of the ICC Women's World Cup India 2013 after the 23-year-old from Port Elizabeth struck her maiden ODI century at Barabati Stadium in Cuttack to secure her side a position in the Super Sixes section of the tournament.
After a disappointing start, Kapp and Dane van Niekerk stabilized South Africa's innings, and later Kapp proceeded to clean-up the Pakistan batting line-up with her useful medium-pace bowling and thus ensuring South Africa usurped Pakistan to assume the 'B3' position in Group B.
In the Group A day-match at BKC in Mumbai, England showed its superior bowling display against West Indies when the side were dismissed for a meagre 101 in just 36.4 overs and England secured itself a six-wicket victory after Danielle Wyatt led from the front.
At Barabati Stadium, South Africa began its attempt for Super Six qualification with a very poor start, when South Africa captain Mignon du Preez and vice-captain Tricia Chetty departed for a duck and four respectively. This left South Africa stumbling with just nine runs on the board and two wickets down.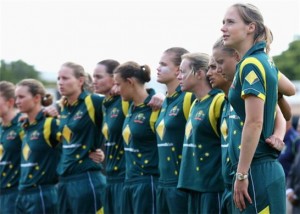 In a day of first for the South Africa side, Kapp, scoring her maiden ODI century in a hard-fought innings, alongside van Niekerk who scored her maiden ODI half-century, helped to steer the side to a respectable total of 207 in the side's 50 overs after some expensive bowling from the Pakistan team.
In response, Pakistan's batting line-up, which has been weak throughout the group stages, struggled in the run-chase. Kapp snaffled three wickets for 18 runs while Shabnim Ismail, Marcia Letsoalo, Sunette Loubser and Benade shared the rest of the spoils as the team was skittled for 81 in 29.4 overs.
Pakistan will now play the 7th v 8th Play-off on 7 February at Barabati Stadium – its opponent will be decided at the conclusion of the India v Sri Lanka game at CCI.
Pakistan captain Sana Mir was once against disappointed with the side's batting performance: "If I had to take any positives from this event it would be our bowling because we really tested Australia and the other teams in the group but when it came to our batting it just was not up to scratch."   
"As a side we need to go back now and review how we are doing things as a team and reflect on how we move forward from here. Credit has to go to South Africa, they have played some really good cricket while they have been here and the way Kapp played her innings was great. We now have to turn our attention to whoever we will play in the seventh v eighth play-off and try to round off a disappointing event with a victory."
Unsurprisingly, South Africa captain Mignon du Preez was delighted with the win which secured her side a place in the Super Sixes: "I couldn't have asked for more from the side today, Marizanne Kapp dug deep for us and alongside Dane van Niekerk really gave us the big total we needed to help us when it came to bowling Pakistan out."
Kapp echoed her captain's thoughts: "I'm really happy to have contributed the way I did for the innings and it was certainly tough out there especially in the heat. I think it would be a tough call to say which was greater for me, today's century or scoring the half-century against Australia. However, if push came to shove, I think the half-century against the Australia side felt a little greater as Australia's bowlers are some of the best in the world, but that's not to say Pakistan's aren't tough face."
Read also:
http://en.africatopsports.com/2013/02/02/cricket-kenyan-arriors-and-knights-players-call-off-for-game-two/