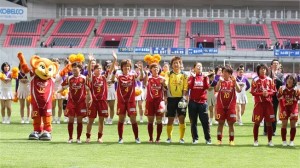 The world of women's club football with much of Europe still enjoying their mid-season hiatus remains a relatively quiet time of the year. However, a traditional highlight of the calendar took place in France as Lyon faced off with Parisians Juvisy, while FIFA.com's weekly review also takes in the latest from Italy and Spain, plus the latest in the build-up to the new league in the USA.
France: Big guns face off
For so long a hopeful challenger to Lyon's hegemony, Juvisy faced yet another opportunity to knock off the league and European champions. However, once again the trip south proved unproductive with Lyon triumphing after a hard-fought encounter. Goals either side of the interval from star duo Camille Abily and Lotta Schelin quelled Juvisy's charge and pushed them 14 points adrift of the runaway leaders. Elsewhere, second-placed Paris Saint-Germain cruised to a 4-1 win at Arras, with new American signing Tobin Heath a notable name on the score sheet.
Top three: Lyon (56 points), Paris Saint-Germain (53), Montpellier (47)
Italy: Frontrunners march on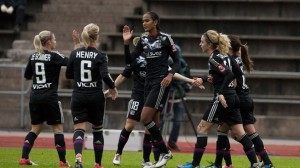 Leaders Torres were made to work overtime before subduing mid-table Mozzanica thanks only to a pair of second half goals. It was another productive weekend for the title hopefuls with the top three all victorious, while fourth-placed Bardolino Verona saw their match postponed.
Top three: Torres (53), Tavagnacco (49), Brescia (45)
Spain: Rare stumble at summit
Barcelona were the big winners on a potentially pivotal weekend, with the champions securing an important win over second-placed Atletico Madrid, while leaders Athletic Bilbao made a rare slip-up.
Top three: Athletic Bilbao (51), Atletico Madrid (47), Barcelona (46)
USA: New league moves a step closer
The new National Women's Soccer League in USA continues to take shape with every passing week. This Thursday will see the latest round of the draft take place leaving the eight teams with the majority of their 18-20 strong player rosters filled. The league, which will feature a significant number of Canadian and Mexican players subsidised by the respective national football associations, will commence pre-season next month with a yet-to-be-confirmed start date scheduled for later in the northern spring.
Read also:
http://en.africatopsports.com/2013/01/26/footballlondon-2013-uefa-final-ticket-on-sale-for-womens-championship-league/