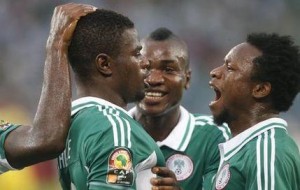 1-Nigeria started slowly in the Africa Cup of Nations, but has gone on to play some magnificent matches. Now it is on the verge of winning the tournament.
2-Sunday's final against Burkina Faso will a very entertaining game between competent teams, who both had to overcome humongous obstacles.
3-Burkina Faso's Cinderella run has been fascinating to watch. Not only is this the country's first appearance in the final, but the countries the Stallions had to defeat on the way were top notch.
4-However, Burkina Faso's journey will end in Johannesburg. Nigeria has simply reached a level that the Stallions can't match.
5-After beating Mali by the score of 4-1, the Super Eagles are bubbling with confidence. That is just one of the reasons Nigeria is going to win the Africa Cup of Nations.