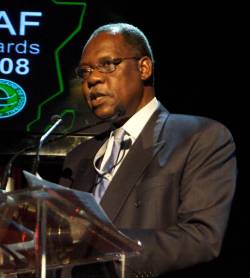 The African Cup of Nations a lot of controversial refereeing performances should not detract from an overall improvement in the standard of officiating, Issa Hayatou, said by the president of the Confederation of African Football (CAF).
Coaches and players have been angry about bizarre refereeing performances at several key matches at the tournament in South Africa but Hayatou believes that overall the standard has been good.
"Overall we are satisfied but we experienced some mistakes with the referees especially at the semi-final between Ghana and Burkina Faso, and there were other errors too…also at the Tunisia v Togo match," he told a media round-table meeting on Friday.
CAF took the unusual step on Thursday of announcing that Tunisian referee Slim Jdedi had been suspended following his handling of the game in which he awarded Ghana a soft penalty, denied Burkina Faso two far more obvious penalties and ruled out what appeared to be a legitimate Burkina Faso goal.
Read also:
http://en.africatopsports.com/2013/02/09/boxing-alexander-must-fight-brook-to-keep-his-world-title