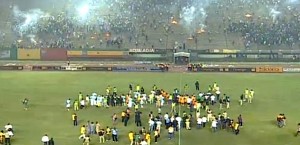 If there is an event that has tarnished the image of the African football in 2012, it is the incidents on Oct. 13 during the match Senegal-Ivory Coast accounting for the return phase of qualifying for the Afcon 2013.
Beaten 4-2, the supporters of Lions of Senegal had not digested the second defeat (at home). In the 72nd minute of the match, the Ivorian captain Didier Drogba scored the second goal of the Elephants.
Exceeded, fans throw projectiles on the lawn. Panic won the stands. Distressing images toured through major international media.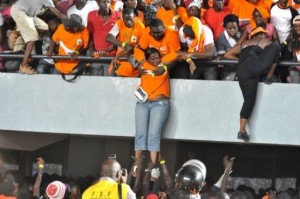 CAF suspends the Leopold Sedar Senghor stadium for a year and Senegal condemns the payment of a fine of $ 100,000. The Lions having other stages to meet the FIFA standards deliver their next matches counting for the 2014 FIFA World Cup in Guinea.
Africa Sports Top Awards elected the match Senegal-Ivory Coast as the missed of Africa in 2012.
[youtube]http://www.youtube.com/watch?v=kPX8NkNtG28&feature=player_embedded[/youtube]
[youtube]http://www.youtube.com/watch?v=cbzRYgFbDbo&feature=player_embedded[/youtube]