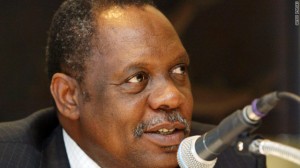 He announced himself yesterday during a breakfast press. Well it is not a secret for anybody.
The CAF President, Issa Hayatou, is a candidate for his own succession for the election that takes place next month. I am one of those who think he should step down now …
But I found this sentence: "If I am elected, this will be my last term."
There was still time! He is the head of the CAF since 1987!
African football will soon learn to turn the page even if Hayatou of Cameroon did things well. And much less …
What do you think? I'm sure I'll start a debate!
Is Issa Hayatou a good president of the African football?
How to dislodge him? (77%, 66 Votes)
Yes! (16%, 14 Votes)
How dare ask? (7%, 6 Votes)
Total number of voters: 86
And recall the survey of Africa Top-Sports.com community – Here –
Basile Boli. 09/02/2013
Ps: to get an idea: is Issa Hayatou it a good president of African football? – Poll –