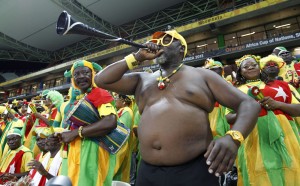 The way this man has remove his top really tells us that they are ever ready to battle the Nigerians.
Because I can't image with this pot belly on park ever ready to jubilate more than ever before.
As songs are going on and others are dancing, some people too are clapping and given their support to the players. Also it tells us that they are ready to take the trophy home and we'll watch that in a few minutes to come. Good luck to both teams.
Read also:
http://en.africatopsports.com/2013/02/10/image-of-the-day-special-afcon-fashion-competition-between-nigerians-fans-and-burkinabe/