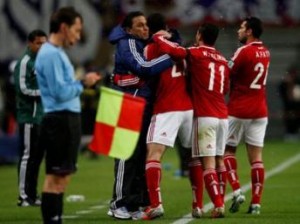 Few teams in Africa can rival Egypt for their standing in the international game, and none boast more Africa Cup of Nations crowns. The Pharaohs lead the entire continent on that front, with their seven wins setting them far apart from nearest rivals Cameroon and Ghana on four. They may have failed to qualify for the last two editions, but the supremacy Egypt established with three consecutive triumphs between 2006 and 2010 remains an unprecedented achievement and a source of great pride for their fans.
Those same supporters nonetheless had to wait eight years for another taste of continental glory after the sadly missed Mahmoud El Gohary steered them to success in Burkina Faso in 1998. With Hassan Shehata at the helm, and the tournament held on home soil, Egypt reacquainted themselves with victory in 2006.
Mohamed Aboutrika was a key figure in that tournament as it was his penalty in the shoot-out with fellow finalists Côte d'Ivoire that sealed the title for Egypt. The win put the Pharaohs back on top in Africa, but it is always much harder to stay there and many expected the champions to struggle when they set out to defend their crown at Ghana 2008.
Despite those predictions, Egypt put together a superb campaign on Ghanaian soil, kicking off with a 4-2 win against hot favourites Cameroon before sweeping aside Sudan 3-0 and topping their group after a 1-1 draw against Zambia. They then dispatched Angola 2-1 in the last eight and handed out a veritable lesson to another of the fancied teams, Côte d'Ivoire, in the shape of a 4-1 victory in the semi-finals.
That secured their place in the showpiece for a reunion with group rivals Cameroon scheduled for 10 February. For millions of supporters watching at home, the match-up recalled the decisive game at Egypt 1986, when the hosts prevailed 5-4 on penalties after 120 scoreless minutes.
The holders went into the contest high on confidence thanks to their 4-2 defeat of Cameroon in their opening encounter, while the Indomitable Lions were hungry for revenge and a return to the African summit following their tournament wins in 2000 and 2002. The tension on the pitch was palpable, and it took until the 77th minute for either side to stake a claim to victory.
That was the moment when Cameroon defender Rigobert Song came under pressure from Egypt forward Mohamed Zidan, who managed to seize possession on the edge of the area. Aboutrika sensed his chance and raced down the right, collecting Zidan's squared pass and slotting the ball beyond Idriss Kameni.
Egypt's fans exploded with joy as his shot nestled in the net, and the goal proved sufficient to keep the Pharaohs on their throne. Aboutrika was no stranger to delighting his team-mates with his exploits, but this time his talents had touched an entire nation. The celebrations raged on for hours the length and breadth of Egypt, and the country soon accorded its returning heroes a rousing welcome.
Before that could happen, however, there were more awards to hand out and Egypt's players were far from finished collecting accolades. Midfielder Hosny Abd Rabo was named player of the tournament, while Essam El Hadary took the plaudits as best goalkeeper. As for Aboutrika, he finished second in the goalscoring stakes along with Abd Rabo, fellow compatriot Amr Zaki and Côte d'Ivoire's Abdelkader Keita, with Cameroonian marksman Samuel Eto'o out in front on five strikes. The team of the tournament, meanwhile, featured five Egyptian players in its ranks: namely, Essam El Hadary, Wael Gomaa, Abd Rabo, Aboutrika and Zaki. In addition, Shehata had clearly shown himself to be one of the top coaches in the competition, even if he was not rewarded with a prize.
Two years after that superb triumph, the Pharaohs retained their title again in Angola, with Shehata still in charge but missing Aboutrika. It was their third consecutive victory a feat that stands alone in the history of the competition first launched in 1957.