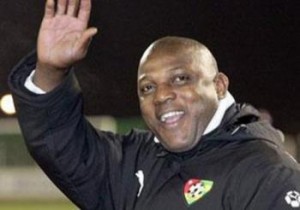 Coach Stephen Keshi, has reportedly resigned from his position, supersport.com.
Keshi, 51, announced he had dropped his resignation on the radio show of respected South African journalist and presenter, Robert Marawa on Metro FM on Monday afternoon.
The South African posted on his Twitter account, @robertmarawa, on Monday after having the Nigerian manager as one of his guests on his radio show: "Stephen Keshi has just announced that he handed over his resignation letter after the game exclusively on [email protected] Marawa on MetroFM."
Keshi is said to have explained his reason for resignation by claiming that he was already sacked as the team's coach before the quarterfinal clash over Cote d'Ivoire.
The Nigerian manager had hinted last week of quitting.
"It doesn't really matter what people think about what Stephen Keshi is doing. The most important thing is what I am doing here and passing on to my team. If back home in my country, they don't appreciate what I am doing with the team, so be it.
"You can't force somebody to love you. You can't force somebody to accept you. It has to come from within," he stated.
Keshi guided Nigeria's Super Eagles to a third African title after his team defeated Burkina Faso by a goal in Johannesburg on Sunday.
The Nigeria Football Federation (NFF) is yet to make an official statement on the latest development.