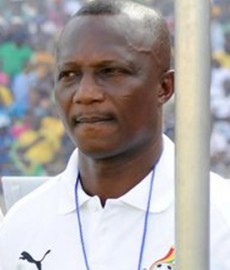 Coach of the Black Stars Akwasi Appiah has apologized to Ghanaians following the team's inability to win the Africa Cup of Nations trophy.
Ghana lost to the Stallions of Burkina Faso on penalties at the Semi Finals and lost out on the trophy which has eluded the nation for over three decades.
The former Ghana captain assumed the position nine months ago but failed to join the elite of Coaches who have won the AFCON tournament in Ghana's history.
Speaking to the media upon arrival from South Africa, Coach AKwasi Appiah said there are many good things ahead for the Stars.
"It was our ambition to bring the cup home but unfortunately we could not make it" AKwasi Appiah said adding "each and every player, the technical team and the management team are all sorry for not bringing the cup".
"Looking at the performance that the new players put up, I believe that we can build on it, learn our mistakes and make sure that in future we win the games ahead of us and make Ghana proud".
President of the GFA Kwasi Nyantakyi who was at his fifth AFCON tournament said the FA will soon put a team together to look at the way forward for the Black Stars.