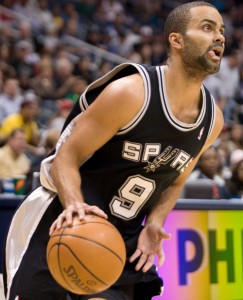 Tony Parker had 29 points and 11 assists in another brilliant performance without his two sidekicks, and the San Antonio Spurs dominated the second half to beat the Brooklyn Nets 111-86 on Sunday night.
Two nights after a loss in Detroit ended their 11-game winning streak, the Spurs got back on track quickly behind Parker, who fell short of his third straight 30-point game only because he was so good he sat out the final minutes of the rout.
Danny Green added 14 points and Tiago Splitter had 13 for the Spurs, who were again without Tim Duncan and Manu Ginobili because of injuries as they beat the Nets for the fifth straight time and 19th in the last 20 meetings.
Joe Johnson scored 19 points and Brook Lopez had 18 for the Nets, who lost for the sixth time in nine games. Deron Williams finished with 15 points.
Duncan missed his third straight game due to a sore left knee, while Ginobili was out for the fourth consecutive game with tightness in his left hamstring. Spurs coach Gregg Popovich said he would be cautious with the two stars, knowing he needs them later this season.
Parker had 10 points and four assists in the third quarter, when San Antonio outscored Brooklyn 30-14 to turn a six-point halftime deficit into an 81-71 advantage. He'd had 31 points and eight assists in both of the previous two games, and just missed a fourth 30-point game in his last six.
Getting into the lane with ease and knocking down consecutive jumpers at one point when he didn't, he was 5 of 6 from the floor in the quarter, making any Nets defender look completely overmatched.
The Spurs then put it away early in the fourth. Parker returned from a rest with San Antonio leading by 10 and helped the Spurs run off 10 straight points. Matt Bonner and Boris Diaw made consecutive 3-pointers, Parker added another basket, and Stephen Jackson drove for a layup that made it 95-75 and had the Nets hearing boos in their new home for one of the few times this season.
Nets interim coach P.J. Carlesimo said his team was lacking the same enthusiasm and confidence it had when he first took over. They got off to a fast start Sunday, but another third quarter ruined all they had done well in the first half.
Lopez capped a 10-point first quarter with a jumper with 2.9 seconds left, and the Nets shot 64 percent in the period for a 35-25 lead. The Spurs tightened things up in the second, cutting it to 57-51 heading to halftime, then surged ahead behind Parker's mastery.
The Spurs improved to 2-1 on their nine-game rodeo road trip. The nine games ties a franchise high.