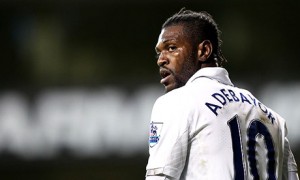 Adebayor infuriated some Spurs fans this week when he waited until five days after Togo's elimination from the African Nations Cup before travelling back to London even though he is the club's only fit striker.
Tottenham are set to fine Emmanuel Adebayor £160,000 for returning late from the African Nations Cup.
Villas-Boas said earlier this week that he wanted Adebayor back in training on Friday, but the 28-year-old did not land back in England until 6pm that day so missed the session at the club's base in Enfield and had to sit on the bench in Saturday's game.
Indeed the only way Spurs could get their man back to Britain was by hiring a plane for him
"Yes, (we sent a jet to get him)," the Spurs manager said.
"He arrived in Luton yesterday around 6 o'clock and then joined the team at the hotel."
Villas-Boas has remained calm when questioned about Adebayor's failure to return earlier all week.
The Portuguese said the former Arsenal striker had "issues" to deal with following his country's exit from the tournament.
If he was angry at the striker's actions, he was not showing it publicly on Saturday.
"It was obviously good to have him," said Villas-Boas, who brought Adebayor on in the second half.
"He helped the team the result so it is good to get him back.
"It's very difficult. First he was authorised to come back on Friday. Some issues arose that have put that comeback in jeopardy, but he still was in time to come back and make an impact from the bench."
Adebayor played an important role in setting up Gareth Bale for his second strike on Saturday, knocking the ball down to the Welshman before he raced clear and nutmegged Tim Krul with 12 minutes left.
The 23-year-old had set Spurs on their way to victory with a fine 25-yard free-kick which dipped over the wall and beyond Krul in the fifth minute.
Villas-Boas, who earlier this week compared Bale to Real Madrid superstar Cristiano Ronaldo, thinks the former Southampton man is one of the most accomplished players on the planet.
"He's on a par with the best players in the world," the 35-year-old said of Bale, who has scored 19 goals for club and country this term.
"He has really helped the team with his goals this year.
"The player is getting the best out his great individual season by scoring and obviously he has a great motivation and I think he is enjoying playing.
"Ronaldo plays more on the left and comes in on his left foot, with Gareth we've tried to use him on the right a couple of times and through the middle.
"When he plays down the middle, it gives him so much freedom, so many options he is able to enjoy it. "It doesn't mean we will always stick with that position but I think he is such a good player he is able to play in different roles and positions."
Newcastle equalised through Yoan Gouffran after 24 minutes and the visitors then threatened to take the lead, but manager Alan Pardew admitted his team could do nothing to shackle Tottenham's match-winner.
"We did a lot of work on trying to stop Bale, but there are still going to be moments when he creates that space and when he hits the ball he connects with it so truly, that's what makes him so difficult," Pardew said.
"If you picked a world XI, there's no doubt in my mind that he plays left midfield or even left-back.
"It's amazing, really, when you think about his career, because he sat here for two years more or less doing nothing.
"He's a great example to players that actually there's always time. Just keep working and the opportunity and the confidence comes and you can find your way. And fair play to him."