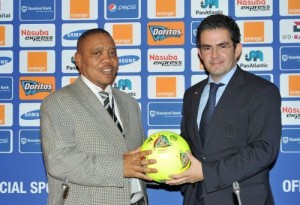 Honors for South Africa for hosting Afcon 2013.
It is the feeling of Hicham El Amrani, Secretary General of the CAF (Confederation of African Football), following the climax of the competition.
"We're really happy with the result. We had expectations, but the organizing committee has exceeded expectations. South Africa has become a reference point in the history of the organization of this tournament. Morocco must now do even better, "said El Amrani (in this photo Kirsten Nemantadani, president of the Federation of South Africa).
South Africa was replaced at short notice to Libya the tournament, due to social and political unrest. It is Nigeria, which won Sunday the 29th edition of Afcon against Burkina Faso (1-0).