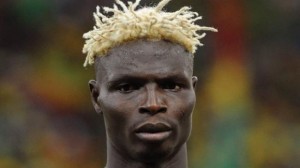 The Stallions striker returned to the final loss of his team in Sunday's final of the Afcon 2013.
Aristide Bance believes his team has not gone away and the feat that Nigeria was not so overwhelming.
"Despite our defeat, I am not as disappointed. I congratulate Nigeria for their victory, but I can say that Burkina Faso has not lost. They were lucky to have scored first. If it was us, it is clear that it would have been harder for them to get back in the game. "
"For a team up for the first time the finals of Afcon lose with a goal is very satisfying for us. Nigeria had the experience of its coach and will be a great inspiration for us in the future. "
Aristide Bancé and the Stallions returned Monday in Ouagadougou and were welcomed as heroes. Tuesday, they were decorated at the August 04 stadium.