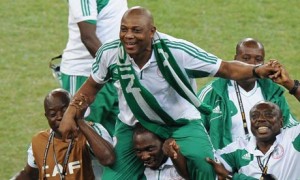 But what is this crazy story! I had to reread several times to Africa Top News Sports.com to verify that the information was true as I still cannot believe my eyes!
Stephen Keshi, the great coach of Nigeria yesterday helped his country to win the 29th Afcon against Burkina Faso quits! Not to take another job but because he suffers from the indifference of the football federation of the country! But this is a great delusion!! "I gave my resignation letter after the final to the National Football Federation. I have not heard from them since. If once back at home, we do not appreciate your work, well, you cannot force someone to love you. "
The message is clear!
I do not understand! I really hallucinate! Stephen has it all! He has mostly everything to lead Nigeria to Brazil and create the real surprise in this World Cup. I even think he can win the African continent in South America! Because he relied on a very young team – left to make a lot of enemies among the old-It's his group, and he knows the taf. He was himself a great player winning with Nigeria Afcon on field in 1998!
How to let go of such a coach? Such a genius? Yes, I'm not afraid of words. In addition, he really touched me during this Afcon with strong convictions that will inevitably shake the African football. He has launched a few days ago: "I'm not against white coaches. White coaches are great but we do not want a mediocre coach, someone who cannot help Africans. That's all I said. I have never said I was against white coaches. But I can never train in Europe because they think I'm not qualified enough to do it. "
Yesterday, at the same time, I concluded my ticket to ATS: "Stephen took a sweet revenge tonight. We will hear a lot about him and even Nigeria. And the African football is also likely to change on the eve of the World Cup in Brazil, where it can create many surprises! Long live Nigeria, long live Afcon, and Long live the African football! "
Today I say the Nigerian Football Federation's crazy! Roll it a red carpet! A little dignity, do your mea culpa and cover Stephen's honors he deserves. He  will bring you even more …
Basile Boli. 02/11/2013