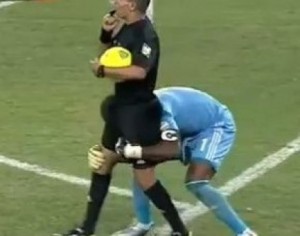 Unusual scene in the final of the Afcon 2013.
While the referee came to him to take the ball and whistle the end of the encounter between the Super Eagles and Stallions (1-0), the Nigerian goalkeeper Vincent Enyeama has tried to raise the Algerian official in celebration.
Ultimately a failure as Djamel Haimoudi was beefier on ground.
The Nigerian goalkeeper has finally resigned and went to his teammates to celebrate the trophy.
Watch this!
[youtube]http://www.youtube.com/watch?v=6vNMEVC7hfE[/youtube]