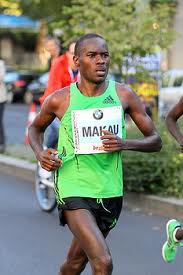 Patrick Makau is planning a major assault on his own World Marathon record this session.
On April 21 comes the London marathon, the25-year-old long distance runner from Manyanzaani, Machakos County, intends to better his world record time of 2:03:38.
He will give it another shot at the Berlin Half Marathon due September 29, in case the 2007 Udine and 2008 Rio de Janeiro World Half Marathon silver medallist won't attain his goal
Makau, who declared that he will be in a better shape at London than when he broke the World record at the 2011 Berlin Marathon, said: "I don't have new strategies but what I am sure of is that I will be in a better shape than ever before. I just want God to keep me in that shape and provide good health."
Makau said that he has fully recuperated from a hamstring injury he incurred at London Marathon to him withdraw mid-race.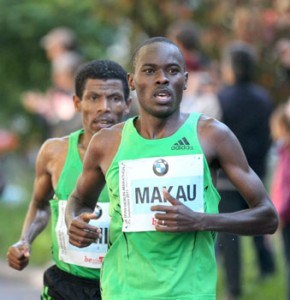 The withdrawal would cost him a place in Kenya marathon team at the London Olympics even though he had earlier been given an automatic after his exploits in Berlin.
"I will shelve my London Marathon dream if I am to make it to Moscow since they are only weeks apart," said Makau, who intends to gauge his strength at the Hapalua Hawaii's Half Marathon on March 10.
Patrick Makau crosses the finishing line to win the 38th Berlin Marathon on September 25, 2011. He set a world record of 2.03:38.
Read also:
http://en.africatopsports.com/2013/02/12/kenya-north-rift-to-be-faced-off-by-champions/