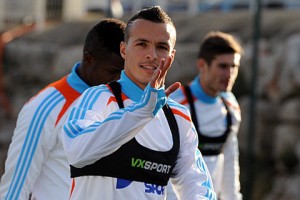 Transferred to OM few days before joining the Algerian selection for AFCON 2013, Fouad Kadir honored his first start with the Olympian club last Sunday, on the grownds of the Parc des Sports d'Annecy to face Evian. In his first start, the midfielder was forced to share the points with OM face in Evian-Thonon-Gaillard (1-1) while his team was reduced to 9.
Algerian international certainly imagine other debut with his new team. The former Valenciennes hope OM finally hang three points on Saturday at the Velodrome against Valenciennes, his former club.
"I felt pretty good, especially in the first period but then outnumbered, they worked hard and you get tired more quickly than usual. We showed solidarity, even at nine, we kept score. This is positive for the future," Kadir said.
"We know that it is never easy to play outside, especially against this type of team. The small club always wants the big fight. There was a lot of duels and was there. "