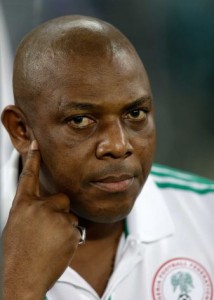 The Nigerian government on Tuesday confirmed that Stephen Keshi remains the coach of the Super Eagles.
Minister of Sports Bolaji Abdullahi told reporters in Abuja, the nation's capital city, that the coach never tendered a formal resignation letter as broadcast by Nigerians. "Although there were issues, I think things were not properly managed as they should be managed but thank God I was on ground to manage the issues," he added.
The Super Eagles coach was quoted in local media as having resigned his position as the manager of the Nigerian team despite winning the African cup on Sunday with a 1-0 defeat of Burkina Faso in the final match.
Keshi's running battle with the Nigeria Football Association ( NFA) heightened in South Africa following the team's poor performance in the first two matches of the just concluded nation' s cup.
Nigeria ended the fairy-tale run by Burkina Faso with a 1-0 win to win the African Cup of Nations (AFCON) at the National Stadium in Johannesburg on Sunday evening.
The Super Eagles clinched the winner in the 40th minute when winger Sunday Mba flicked the ball over defender Mohamed Koffi to send it to the net with his other foot.
It is the third time for Nigeria to win the tournament. The previous two wins were in 1980 and 1994.