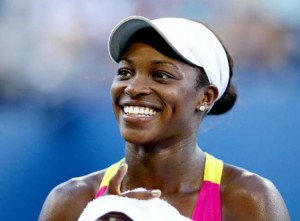 Sloane Stephens had little trouble in her Qatar Total Open opener, playing for the first time since her phenomenal results in Australia. Marion Bartoli battled past Francesca Schiavone.
Sloane Stephens lifted her game to new heights Down Under and on Tuesday she picked up right where she left off, winning her first round match at the Premier-level Qatar Total Open.
In the Australia Stephens was ranked No.38 and came out to No.17- she went 10-3 in the four-week swing, reaching the quarterfinals of Brisbane and the semifinals of Hobart and the Australian Open.
In Doha this week, she Seeded No.16, Stephens needed just 63 minutes to get past Anna Tatishvili, 62 62.
"I felt good," Stephens said. "I hadn't really been serving since my abs was a little sore recently, so I didn't serve that great today. And actually last weekend I got like a stomach virus or something like that, I don't know what I had – but other than that it was good today. I'm just happy I can play now."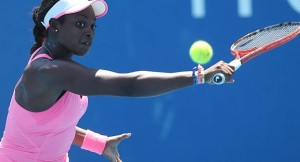 Stephens talked about whether her mentality has changed on the court since her phenomenal results in Australia. "I just go out there and do the same things as I did the first week of Australia, second week, even third week," she said. "I just have to go out and play. You start thinking about all those other things and it's just going to make you crazy. So I just try to go out and play. Who knows?"
"I hadn't played since Melbourne, so coming out and playing a good player today, I just had to play my game. I just had to play solid. And that's what I'll try and do for the rest of the tournament."
And on all of the attention she has been getting since becoming the first American teenager to reach the semifinals of a Grand Slam since Serena Williams made the final of the US Open back in 2001?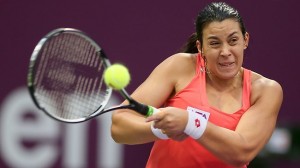 "The first week at home was tough," Stephens said. "Everyone was like, 'Oh my God, I want to see you.' When I was on Ellen, it was really weird. Of course I had people tweeting me and stuff. And I wanted to make time for my friends and see the people I was supposed to see. It was just really tough the first week, but then I was glad I was able to just stay at home for the first time in a while."
Also among the winners was No.9 seed Marion Bartoli, who rallied from 5-2 down in the first set and a break down in the second set as well to win a two-hour marathon with Francesca Schiavone, 76(5) 63. It was a personal triumph for Bartoli, who had lost five of the pair's previous six encounters. Attach with video.
[youtube]http://www.youtube.com/watch?v=bgx5B5GQsf8[/youtube]
Read also:
http://en.africatopsports.com/2013/02/13/tennisqatar-williams-won-whiles-sharapova-perfect/