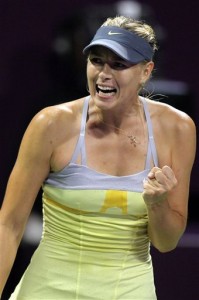 On Tuesday, the second round of the Qatar Total Open kicked off with Maria Sharapova improving to 10-0 in her career at the tournament and Mona Barthel scoring her biggest win.
Two years ago, in front of a stunned crowd on Court Philippe Chatrier at Roland Garros, Caroline Garcia was ripping winners from every wing, building a 63 41 lead against Maria Sharapova and leaving some very big impressions on the tennis world- there was even a famous tweet from Andy Murray during the match, saying the French teenager would be ranked No.1 in the world one day.
The No.3-seeded Sharapova was made to work, grinding out some tough rallies against the hard-hitting French teenager to win in an hour and 16 minutes, 63 62. Sharapova would get out of that one, 36 64 60, and on Tuesday she held Garcia off once again in her opening match of the Qatar Total Open.
"I was quite happy with the way I played because my opponent had played a few matches already, so she's been able to get into that match atmosphere," Sharapova said. "Sometimes that's a benefit. I wanted to start really strong. I had a really tough match against her in our previous encounter, so I really wanted to start better this time, as opposed to the way I started against her last time."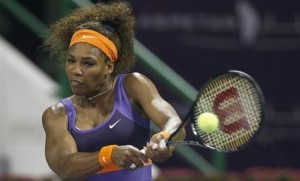 Sharapova talked about Garcia's development. "I think she's an up-and-comer who is still making that transition from the juniors to the pros – it's one of the toughest things, getting your feet on the ground with the game itself, but I think we will be seeing her for many more years. I think she played really well today. She has a big game and much strength, which I think everyone saw out there today."
"I think she has a bright future ahead of her."
Williams has now won 57 of her last 60 matches, a stretch dating back to the beginning of the clay court season last April. Two more second round matches also took place in the night session, beginning with No.2 seed Serena Williams' 54-minute, 62 61 win over Russian lucky loser Daria Gavrilova.
"Mostly I've just been trying to play smoothly and avoid problems, and just do the things I've been working on," she said. "Physically I'm feeling better, and hopefully I can stay on that level. Let's go onto the next round now." Williams' form coming into Doha was in question at times, given her injuries from Australia, but the 15-time Grand Slam champion looked solid on Tuesday night. Attach with video.
[youtube]http://www.youtube.com/watch?v=g-siUQiuWRY[/youtube]
Read also:
http://en.africatopsports.com/2013/02/11/tennis-top-spot-regain-by-serena-williams/