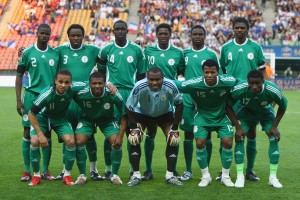 African champion Nigeria has risen 22 places in the latest FIFA rankings, which is led by World Cup champion Spain.
Nigeria moved up to No. 30 after its victory over Burkina Faso in the African Cup of Nations final. Burkina Faso rose 37 spots to No. 55.
Spain leads an unchanged top three ahead of Germany and Argentina. Fourth-place England climbed two places after beating 18th-ranked Brazil in a friendly last week. Italy dropped to No.5.
The top ranked African country is No. 12 Ivory Coast, which lost to Nigeria in the quarterfinals.
Mexico leads CONCACAF nations at No. 15, and the United States dropped four to No. 32 after losing a World Cup qualifier to 51st-ranked Honduras.
Japan leads Asian nations at No. 28, down seven places.