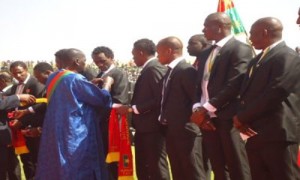 After the brilliant performance of the Stallions of Burkina Faso in Afcon 2013 (finalist), the national authorities have decided to decorate the ambassadors of the country of honest men.
This small gesture of government has likely spoiled the party. According to Lefaso.net, there are big men forgotten during the decoration ceremony: "There have been mistakes, oversights unacceptable, leading players in the construction of the good performance of the players were zapped when the time came to give medals of honor, among others, the coach of goalkeepers, Yacouba Traore Maier, general manager Gualbert Kabore, … and also the third vice president of the FBF, "can be read on the site.
Remember that Captain Moumouni Dagano and his teammates were also honored by the mayor of the town of Dori. The Honourable Arba Diallo offered plots to each player.