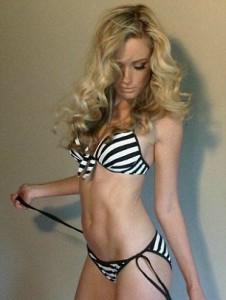 Miss Steenkamp was born in Cape Town on August 19, 1983, and moved to Port Elizabeth as a child.
She graduated with a law degree, but made a dynamic career change after being scouted and named the first face of cosmetics giant Avon South Africa.
She moved to Johannesburg six years ago and since then has travelled between the city and Cape Town to film and shoot some of South Africa's leading campaigns and commercials.
But the girlfriend of 'Blade Runner' Oscar Pistorius had her promising young life cut tragically short today after she was allegedly shot dead by the Paralympian at his mansion.
Reeva Steenkamp, 30, was about to embark on the next stage of her dynamic and varied career, this time as a TV star, when she was killed in what early reports suggested was a Valentine's Day surprise that went horribly wrong.
Reeva Steenkamp, a model who spoke out on Twitter against rape and abuse of women, was shot four times in the predawn hours in the home, in a gated community in the capital, Pretoria, police said.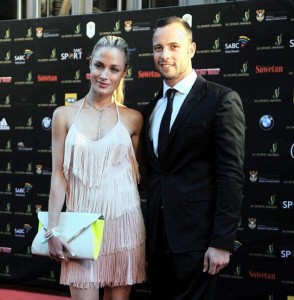 Brigadier Beukes also said there had been previous incidents and "allegations of a domestic nature" at the home of the Olympic star and double-amputee runner, who is one of South Africa's and the world's most famous sportsmen and made history at the London Games last year by being the first double-amputee runner to compete at the Olympics.
Here are 10 things you need to know about the "rising star" model that was set to "explode in the media".
1. Reeva was born in Cape Town and moved to Port Elizabeth as a child
2. She was a law graduate
3. She moved to JHB six years ago after being scouted by model agencies
4. She was named the first face of cosmetics giant Avon South Africa
5. Reeva travelled between JHB and Cape Town to film and shoots some of SA's leading campaigns and commercials
6. She has worked for Toyota, FHM, Clover and Italian brand Zui
7. She had a background in TV presenting and once was the live roaming presenter for FashionTV in South Africa
8. "Reeva had a passion for cars and cooking."
9. She was due to be one of the stars of SA reality TV show Tropika Island of Treasure
10. Reeva was from a family of horse trainers and her father, Barry, is related to famous South African trainers the Amos brothers
[youtube]http://www.mirror.co.uk/news/world-news/reeva-steenkamp-videos-oscar-pistorius-1709479[/youtube]
Read also:
http://en.africatopsports.com/2013/02/14/south-africa-oscar-pistorius-arrested-after-shooting-dead-his-girlfriend-video/