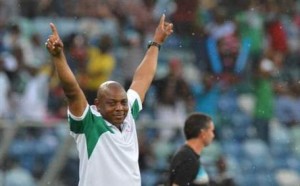 Emmanuel Uduaghan, governor of Delta State Thursday added another dimension to the celebration of the 2013 Africa Cup of Nations heroes.
He did not only appreciate Keshi with a plot of land but also said that the state would assist the Eagles gaffer develop the property so as to find a home in his home state.
Speaking when the victorious Eagles paid him a courtesy call at the Government House in Asaba Thursday Dr Uduaghan thanked the players and officials for making the country proud.
The governor asked Keshi and all the sports heroes from the state to mentor budding talents.
The plan is for Keshi to start identifying with his home state in the area of sports development.
The reception for the Eagles was part of the implementation of the sports summit the state held in October last year.
During the summit mentoring was highlighted as one of the motivating factors for athletes. It was against this background that Delta invited ex internationals like Godwin Etemike, George Ogawon, Ebuwon Dediare, Owolo and Jossy Dombraye to the event after the players rode through Asaba streets and were appreciated by the people.
Five of the players in South Africa had roots in Warri Wolves. They include, Chigozie Agbim, Sunday Mba, Fegor Ogude,  Azubuike Egwueke and Nosa Igiebor.
"Mentoring is important. Our heroes should begin to put something back into their communities," Uduaghan said at the event.
Turning to Keshi he said: "we know that you are with the national team but once in a while you could put an eye in Delta especially now that we have a soccer programme that could offer avenue for you to help."
Dr Uduaghan was referring to the Governor's Cup introduced for secondary schools in the state.
Delta Sports Commission Chairman, Amaju Pinnick earlier described the presence of the Eagles in Asaba as part of the programme to inspire youths in the state who are bound to emulate the champions.
He said Keshi drew inspiration from the likes of Dombraye and that the current players were also emulating what Keshi and his generation did.
The Delta State Sports Commission chief said it was important the cycle continued.
Assistant Coach of the Super Eagles, Sylvanus Okpala enlivened the hall when he started a song before Uduaghan started his speech.
It was a football song that the governor joined the chorus and demonstrated soccer moves as directed by Okpala. Everybody joined too.
Uduaghan said that would always support the good dreams and targets of Keshi who is from Illah in Delta.
Read also :
http://en.africatopsports.com/2013/02/15/nigeria-adenuga-rewards-coach-keshi/
http://en.africatopsports.com/2013/02/13/stephen-keshi-will-stay-on-as-head-coach-of-nigeria-video/
http://en.africatopsports.com/2013/02/13/nigeria-keshi-gives-decision-a-second-thought-after-2013-afcon/