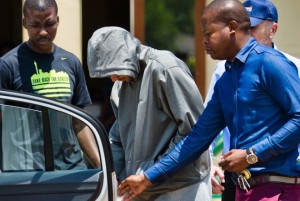 South African Paralympian Oscar Pistorius has arrived at a Pretoria court to face a murder charge over the shooting death of his model girlfriend.
Television footage showed the double amputee leaving a police station earlier with a coat over his head amid a media frenzy.
The hearing is due to start at 10am local time (9pm NZT).
Pistorius, 26, who won gold in the 400m at the London 2012 Paralympics, was charged with shooting dead 29-year-old Riva Steenkamp at his home in an upmarket gated estate in Pretoria yesterday.
Ms Steenkamp was reportedly shot four times. Police, who recovered a 9mm pistol at the scene, poured cold water on earlier reports that Pistorius may have mistaken his girlfriend for an intruder in the early morning shooting, saying there had been earlier domestic disturbances at the house and neighbours had heard the couple arguing.
A neighbour said police had been handed CCTV footage allegedly showing Ms Steenkamp arriving at the estate in the evening the night before the shooting.
Police were expected to oppose bail when Pistorius appeared before a magistrate.
Media reports said Ms Steenkamp was shot four times through a bathroom door, although this has not been confirmed by police.
More details of the shooting were expected to be revealed in court.
Pistorius arrived at Pretoria Magistrates Court in the back seat of a police vehicle, from where he pressed a jacket and a notepad against the window to block out photographers, the Guardian reported.
The public gallery of courtroom C, where the hearing is to be held, was packed well before the start time.
It is unclear whether Pistorius' murder charge was laid under Schedule 5 or Schedule 6.
Under South African law, Schedule 5 covers general murder charges and takes in manslaughter. Schedule 6 is more serious and includes premeditated murder.
Schedule 6 murder charges can carry a mandatory life sentence.
Watch video below :