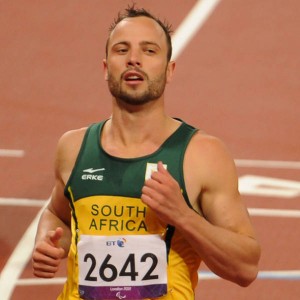 Oscar Pistorius was formally charged with one count of murder on Friday for murdering his girlfriend at his exclusive South African home.
The 26-year-old Paralympic superstar collapsed in tears as he was brought before magistrate Desmond Nair in a courtroom in the capital Pretoria, after his girlfriend Reeva Steenkamp was found shot dead early on Thursday morning.
Prosecutors argued that he had committed premeditated murder, and successfully opposed a bail application by the athlete's defence lawyer who has cited his "extremely traumatised state of mind".
Mr Pistorius was in remanded in custody until Tuesday.
The court hearing had originally been scheduled for Thursday afternoon but was postponed until Friday to allow forensic investigators time to carry out their work.
Early reports suggested Mr Pistorius had mistaken Steenkamp for an intruder. However, police said neighbours had heard noises before the shots and there had been previous "domestic" incidents at the house.
A 9mm pistol was recovered from Mr Pistorius's modern two-storey house in the middle of a heavily guarded gated complex on the northern outskirts of the South African capital.
Local media reported that Mr Pistorius had shot Steenkamp four times through a bathroom door. She was hit in the head, chest, pelvis and hand, the Afrikaans-language Beeld newspaper said on its website.
"Golden Boy Loses Shine" ran a front-page headline in the Sowetan beside a picture of Mr Pistorius, head bowed in a grey hooded tracksuit being led away from a police station.
Callers to morning radio shows expressed remorse at the death of Steenkamp, who had been due to give a talk at a Johannesburg school this week about violence against women.
There was also widespread disbelief at the fate of a sporting legend regarded as a genuinely "good guy".
"How is it possible for one so high to fall so low so quickly?" Talk Radio 702 host John Robbie said.
Mr Pistorius, who was born without a fibula in both legs, was the first double amputee to run in the Olympics and reached the 400-metres semi-finals in London 2012.
South Africa has some of the world's highest rates of violent crime and many homeowners have weapons to defend themselves against intruders, although Mr Pistorius's complex is surrounded by a three-metre high wall and electric fence.
Read also :
http://en.africatopsports.com/2013/02/15/south-africa-pistorius-in-court-to-face-murder-charges/
http://en.africatopsports.com/2013/02/14/south-africa-oscar-pistorius-expected-to-the-judge-this-friday/
http://en.africatopsports.com/2013/02/15/south-africa-oscar-pistorius-arrives-in-court-video/