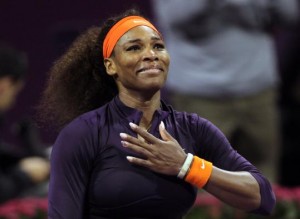 Eight Top 10 players made up a star-studded quarterfinal line-up at the Premier-level Qatar Total Open, but it was the Top 4 players in the world who stepped it up when it really mattered.
On Friday at the Qatar Total Open, Serena Williams regaining No.1 wasn't the only big story of the day and for the first time this year the Top 4 players in the world have all made it through to the semifinals of a WTA tournament, led by the outgoing World No.1, Victoria Azarenka.
The No.1-seeded Azarenka had beaten Sara Errani in straight sets in their last three meetings and history would repeat itself this time, as she cruised past the No.6-seeded Italian, 62 62.
"The score never tells the whole story, really – we had a lot of really long rallies, and I was expecting that," Azarenka said after the match. "I know Sara's game a little bit. She's a very good fighter, and she always brings a lot of balls in. So you have to be ready for even your best shot coming back."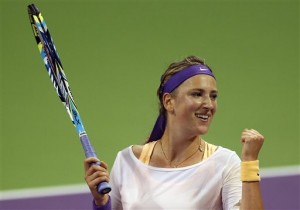 "I was ready for that, and I really felt like I took big advantage of the important moments, stayed aggressive and really dictated with my game, which was the key for me to go ahead today. I had to disturb her defensive game, because she can stay there forever – I don't want to stay there forever!"
"She likes to make her opponents travel all over Doha, really."
Awaiting Azarenka in the semifinals will be No.4 seed Agnieszka Radwanska, who battled back from deficits of 3-0 and 5-3 in the second set – and even saved a set point along the way – to edge No.10 seed and good friend Caroline Wozniacki in straight sets in the last match of the day, 62 75.
The other semifinal will pit No.2 seed Williams against No.3 seed Maria Sharapova. Sharapova was the first to move through to the semifinals, blasting 12 aces – including three in a row at one point late in the second set – to make it past No.8 seed Samantha Stosur in a tricky straight-setter, 62 64.
"I was happy to win today because Sam certainly stepped up her level in the second set, and I really started playing well when I had to and was aggressive at the right times," Sharapova said. "And after not serving well for about a set and the beginning of the second, on the important points, when I really had to, I came up with some really great first serves. That really did help me win the match today."
Williams was asked about playing Sharapova. "I'm playing a great player, and hopefully I can play better than I did today," she said. "I'm happy to still be in the tournament at this point, and I just have to refocus now. I have a tough match tomorrow. We'll see what happens. It's not over yet."
[youtube]http://www.youtube.com/watch?v=pZrBSgDI34I&feature=player_embedded[/youtube]
Read also:
http://en.africatopsports.com/2013/02/16/image-of-the-day-mazda-rx-7-car/