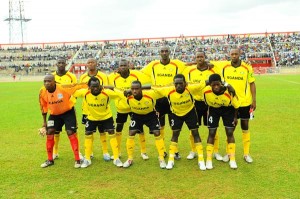 Uganda dropped three spots from 81st place in the latest CocaCola FIFA Rankings released by the soccer's governing body. Uganda is now ranked 84th in the World and 21st in Africa.
Uganda still rules the East African region; Kenya moved one place up to 126th and 36th in Africa, while Tanzania dropped three places to 127th in the world and 37th in Africa.
The highest movers in East Africa were Rwanda who gained 7 spots on the charts to 130th in the world and 39th in Africa. Burundi dropped 11 places to 115th in the world and 33rd in Africa.
Côte d'Ivoire remains the highest ranked nation in Africa despite being knocked out of the African Cup of Nations in the quarterfinals by eventual champions Nigeria.
Ivory Coast is now ranked 12th in the world. Ghana and Mali follow in 19th and 25th positions respectively.
Nigeria made a huge jump in moving to 30th from 52 in the world and 4th in Africa, while beaten finalists Burkina Faso also made great strides in rising to 55th in the World and 9th in Africa.
World Cup Champions, Spain retained their spot at the top of the rankings followed by Germany and Argentina who all retained their spots in the top three.  5 time World Cup winners and hosts of the 2014 edition, Brazil are languishing in 18th position.
Top 10
1. Spain
2. Germany
3. Argentina
4. England
5. Italy
6. Colombia
7. Portugal
8. Netherlands
9. Croatia
10. Russia
and
84. Uganda