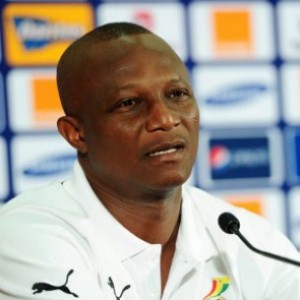 According to the Ghana News Agency, James Kwasi Appiah, head coach of the Black Stars, has said he is solely responsible for the failure of the team, to win the 2013 Africa Cup of Nations in South Africa recently.
"I made some tactical errors in the course of the competition. I have learnt very useful lessons from the experience in South Africa and I hope to correct such mistakes for the good of the team in future." He stated.
Speaking at a press conference in Accra on Friday, coach Akwasi Appiah, apologized to the nation for the failure of the team to live up to expectation of all Ghanaians, after 31 years of wait for continental glory.
He said, "In the build up to the competition, the team performed so well in the friendly matches we played and it was normal for Ghanaians to raise their hopes and expect the trophy.
"It was however unfortunate that we could not live up to this expectation hence the need to apologize to all Ghanaians for the failure". He stated.
"I am sincerely sorry for the inability of the team to win the trophy. We did our best, but it was not enough to grant us the trophy". He noted.
Coach Appiah said despite the disappointments, there were a lot of gains from the competition, taking into consideration the number of talents that were discovered in the team.
"There were a lot of prospects in the team. Many of the debutants demonstrated that their commitment and determination to play for the national team.
"We are going to build on these gains to improve the fortunes of the team in future. I believe we can build a more formidable squad from here". He stated.
He said the doors of the national team were opened to every Ghanaian who is playing regular football, committed and ready to submit himself to the code conducts of the national team.
The coach however added that, seniority would not be a guarantee for a position in the team adding that every single player must justify why he has to be in the national team.
Source:  Ghana News Agency
Read also:
http://en.africatopsports.com/2013/02/16/ghana-coach-appiah-to-continue-with-job-confirmed-by-gfa/
http://en.africatopsports.com/2013/02/16/ghana-is-essien-returning-into-black-stars-team/