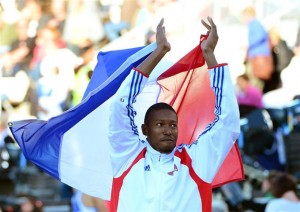 Mickael Hanany realizes the double blow in the championship of France Indoor Athletics.
From Guadeloupe, he won the high jump Sunday before Abdoulaye Diarra (2.24 m) and Fabrice Saint-Jean (2.21 m).
The member of the Entente Franconville Cesame Val d'Oise France became champion after jumping 2m27 at his second trial. He then fails to 2m33.
With his jump, Michael Hanany (29) realizes the minimum required for the European Championship in room in Gothenburg (Sweden) planned for March (1 to 3).
"I first had to win today. Minima come with competition. I was not fixing it. I managed to get the adrenaline and to ramp up, " he said on the website of the French Athletics Federation.
The ticket for the Euro in pocket Hanany is a place in the final during this meeting, "I go to Gothenburg to enter the final. I begin to feel lighter and lighter. I try to enjoy myself there. "
As a reminder, the best performance of the new champion of France of height is 2m28, completed in 2010.