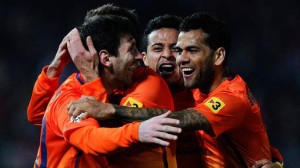 Come on, I like to repeat myself, but Lionel Messi lives up to his name! What a phenomenon! With Barcelona last night he scored twice against Granada!
He has reached 301! What can I say? It is magical, unique! And his career is far from getting over. Me what fascinates me is his simplicity, fidelity, he owe everyting to Barca, and his effectiveness! Always terrible!
He scored his first goal with Barcelona on May 1, 2005 in a match against Albacete in La Liga (2-0).
With his meter, 69 m he became the highest scorer in the club's history since last March – he had exceeded Cesar Rodriguez with his 232 achievements with Barcelona for the years 1940-1950.
The press covers praise this morning: "Nothing resists Messi " said the Catalan newspaper, El Mundo Deportivo.
Also note the homage of the assistant coach of Catalans, Jordi Roura: "There is nothing to add. What he does is simply amazing. "
Go up to the images! They are really good! Congratulations to Ariste!
But how far is he good to go?
BB. 02/17/2013
http://rutube.ru/video/d30187c01bf31cf9957311ee034f9201/