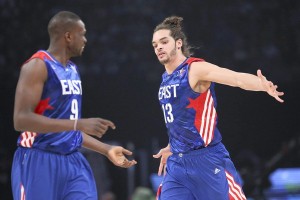 In the second quarter of his first All-Star Game, Joakim Noah went to crash the offensive boards, thought he got fouled and immediately threw up his hands in disgust while glaring at an official.
In the fourth quarter, he dropped into an intense defensive stance while isolated on Chris Paul, who buried a 3-pointer in his face. Noah responded by accidentally elbowing Paul in the face as he led a fast break.
Yep, Noah only knows how to play one way.
"I can't half-ass it or else I would really look like (crap) out there," Noah said.
Capping a weekend that Noah thoroughly savored and enjoyed, the emotional and energetic leader of the Bulls finished with eight points and 10 rebounds in 16 minutes. He showed no ill effects from the plantar fasciitis in his right foot that has plagued him.
But even if Noah's intensity didn't perfectly fit the fan-friendly, glorified exhibition, the Bulls center felt right at home. Roughly 30 friends and family from all parts of his background attended to witness his unlikely ascension.
"I haven't slept in three days, and I've enjoyed every minute," Noah said. "There isn't one of my close friends who isn't here. My Pops is here, smiling and proud. It means so much to me."
Perhaps fittingly, Noah took the Toyota Center court first for individual pregame warm-ups, sharing conversation and laughs with Celtics legend Bill Russell and filmmaker and Knicks fan Spike Lee. Noah grew up a Knicks fan in New York.
Shortly after entering late in the first quarter with Luol Deng, Noah blocked Zach Randolph's shot emphatically from behind. Noah kept crashing the boards, leading a fast break off one defensive rebound. He later connected with LeBron James for two scores off pick-and-rolls.
"Just being able to spend time with these guys you view kind of the enemy was fun," Noah said. "Every summer I work out I think about all these guys and how they're in the way of what I want and that's a championship. To be able to vibe with them, check out their routines, it's pretty interesting."
Will that soften Noah up?
"Hell no," he said. "I'm not friends with them. But you have to respect the game. And these are the best players."
Read also :
http://en.africatopsports.com/2013/01/18/nba-joakim-noah-is-at-his-best-in-the-nba/
http://en.africatopsports.com/2013/01/18/nba-joakim-noah-is-at-his-best-in-the-nba/
http://en.africatopsports.com/2012/12/21/nba-noah-stops-the-gun/